How can anyone be so disrespectful of his staff or of the office he holds or of a national heirloom such as the desk he uses as a mere footstool? Sadly, I'm not surprised that a man so poorly prepared for leadership would act this way.



The doofus can't even talk to a few 6th-graders without teleprompters! (← Ya gotta click on that link. It's a hoot!)



And, why do those teleprompters always have to be angled to keep his arrogant snoot so high in the air? Who voted for this guy and why?


Let each citizen remember at the moment he is offering his vote that he is not making a present or a compliment to please an individual -- or at least that he ought not so to do; but that he is executing one of the most solemn trusts in human society for which he is accountable to God and his country. — Samuel Adams (Boston Gazette, 1781)

The man with no known birth certificate has made this nation more of a global joke than even the last Democrat to hold the office of President.

Recommended book: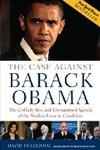 The Case Against Barack Obama: The Unlikely Rise and Unexamined Agenda of the Media's Favorite Candidate